Backpacking For The Community 2023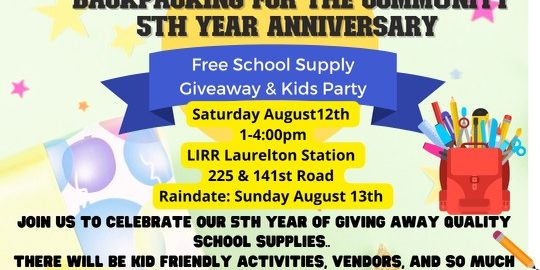 On August 12th, 2023, A Vision To Empower celebrated the 5th anniversary of our community event, Backpacking For The Community. The community came out and received free quality school supplies. The children enjoyed playing in the bouncy house, face painting, snow cones, cotton candy, and many other wonderful activities. At the same time, parents shopped at our local community vendors and danced joyfully to the tunes from our live DJ while traveling down memory lane with the Swagga Jumpers, a dance and double dutch academy.
We thank our local community vendors, our house DJ Cav, The Sovereign Market, Destiny Bound, DJ Arista, and JJ The Clown for partnering with us for this event.
A Vision To Empower is committed to equity in education and aims to provide children with the resources to realize their full potential. Events such as these are significant, and we couldn't hold them without the support of our volunteers and donors, who ensure we have the means to continue to provide for our community. We want to thank all those who supported the event and made it possible. If you want to support us with similar future events, please get in touch with the team! You can reach us by email at [email protected] or call us at (347)389-4979
Check out our THANK YOU video and photos from the event below: